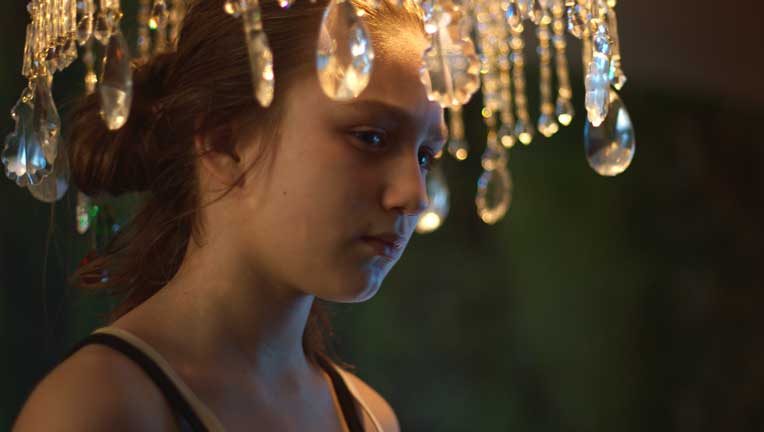 Jarka
Jarka is a mature-looking 10-year-old girl. She is quite used to spending her time alone and is very capable of taking care of herself – she can easily make pasta and wash her own clothes. She is used to dealing with difficult family situations and has learnt never to 'make a fuss'. She doesn't cry, scream, or complain. She has created her own world in an abandoned garden shed, where she feels safe, and where she can enjoy the perks of her childhood.
Jarka is portrayed by the young Vanessa Szamuhelová, whom we spotted in the corridor of one of the schools we visited while looking for our actress. During the auditions, she proved to be the best of nearly a hundred candidates. Vanessa is a nice and easy-going girl who can nevertheless express the depths necessary in this role. She can be playful, but she can also act out more demanding scenes. As an actress, she is very natural and unpretentious.

Kristián
Kristian is a fragile 8-year-old boy from a well-to-do family. He and Jarka live in the same housing estate. Thanks to his overprotective parents, Kristian is isolated from nature and also from his peers, who only see him as a target for bullying. He spends most of his time in his room playing videogames.
This character is portrayed by Matúš Bačišin. He is small-framed for his age and there is something fragile in his appearance, but he also has a peculiar charm which is most noticeable in his smiles, gestures, and quips. Matúš really enjoyed the shooting; he immediately understood what was expected of him and had a great time doing it.

Lucia
Lucia is not a bad person. She is just weak. She loves Jarka but repeatedly fails to perform her parental duties. She is reluctant to grow up and continues to act like a teenager. She is very pretty and fragile, but she can also be very cold and cruel.
It was very difficult to cast this character. In the script, Lucia often comes across as too antagonistic. So that she does not seem too one-dimensional, we wanted to cast a young woman whose own fragility would be apparent and even touching whenever she failed to behave properly. We found that in Katarína Kamencová, a young singer and former semi-finalist of THE VOICE of Czechoslovakia.

Irena
Irena had Lucia shortly before she turned forty. Like her daughter, she, too, refuses to perform her parental duties. Irena is sick and needs help, and her relationship with her daughter and granddaughter works a lot like a business deal. Something is always being exchanged for something else. Irena uses every weapon at her disposal to manipulate Lucia and Jarka, including threats and emotional blackmail.
This character was exquisitely portrayed by Johanna Tesařová, an actress with the Czech National Theatre in Prague. She has a wealth of acting experience and is very natural in front of the camera. Visually, she is a great fit for Irena and had all the potential to truly embody the character, which she eventually did.
Recording of the title song
Children's joy is the best joy ever
Hulapa film (Slovakia)
PRODUCTION COMPANY

 Iveta Grófová
DIRECTOR

 Katarína Krnáčová
PRODUCER (SLOVAKIA)

 Denisa Buranová
DIRECTOR OF PHOTOGRAPHY
 Marek Leščák a Iveta Grófová
SCRIPT
 Jiří Konečný
CO-PRODUCER (CZECH REPUBLIC)
 Peter Reich, Iván Angelusz
CO-PRODUCER (HUNGARY)
The book Piata loď [The Fifth Boat] was originally released in 2010. It was awarded the prestigious Anasoft Litera Prize and was named the Slovak Book of the Year. It has been translated into Czech, German, Hungarian, Arabic, Bulgarian, Polish and Romanian. In Croatia, Piata loď was released as part of a series of thirty contemporary European novels. To this day, it has inspired several scripts written by the students of the Academy of Performing Arts in Bratislava and the Film and TV School at the Academy of Performing Arts in Prague, as well as a short animated film, two monodramas by Rosa Pokorná and Sláva Daubnerová, and a play by the Slúchadlo Theatre. The feature film Piata loď/Little Harbour by director Iveta Grófová will premiere in 2017.
Monika Kompaníková (1979) studied painting at the Slovak Academy of Fine Arts in Bratislava. Among other titles, she is the author of Miesto pre samotu [A Place for Solitude], a short story collection for which she was awarded the Ivan Krasko Prize, the novella Biele miesta [White Spots], which was nominated for the Anasoft Litera Prize in 2007, the novel Na sútoku [At the Confluence] (2016), as well as the children's book Hlbokomorské rozprávky [Tales From the Deep Sea] (2013).
Iveta Grófová: Piata loď je pre celú rodinu
Film Piata loď bude mať svetovú premiéru na prestížnom Berlinale
Slovenský film Piata loď bude mať svetovú premiéru na Berlinale
Slovenský film Piata loď bude mať svetovú premiéru na Berlinale
Slovenský film Piata loď bude mať svetovú premiéru na Berlinale
Slovenský film Piata loď bude mať svetovú premiéru na Berlinale
Hulapa film, s.r.o.
Riazanská 36,  831 03 Bratislava
IČO: 45461163,  IČ DPH: SK2023001541,  DIČ: 2023001541